Why Hummingbirds Are More Active In The Rain? EXPLAINED!
September 22, 2023
Why Won't My Bird Stop Screaming? Identifying Reasons
September 29, 2023
As many bird enthusiasts know, our feathered friends have diverse and particular dietary needs. While we often consider seeds, worms, and insects as bird staple foods, fresh greens, specifically lettuce, are less frequently discussed. You might wonder: is lettuce a suitable and safe snack for birds? Let's dive into this leafy matter and uncover the details.
Related Read: Can Birds Eat Walnuts? – Dietary Guidelines and Tips
Can Birds Eat Lettuce?
The short answer is: Yes, birds can consume organic lettuce, but in controlled amounts.
Lettuce is packed with valuable nutrients, offering an excellent vitamin C, fiber, and iron source. Nonetheless, whether you're considering giving lettuce to wild avians or your pet bird, it's crucial not to overfeed.
Birds with a primary diet of seeds might not be too keen on trying lettuce, as they often gravitate towards their usual seed-rich diet.
For instance, smaller birds like Finches might be more fascinated by lettuce seeds than the leaf.
You can pique their interest by placing some rinsed lettuce near their regular bird seed on a feeding table. Still, don't be surprised if they largely ignore the green offering.
Wild birds, including Sparrows and Goldfinches, are generally more receptive to eating lettuce. Furthermore, pet owners with Parrots will be happy to learn that lettuce can be a nutritious addition to their bird's meals.
Also Read: Why Do Birds Circle In The Air? (ANSWERED!)
The Different Types Of Lettuces Birds Can Eat
Loose Leaf Lettuce
Loose leaf lettuce, known for its tender, curly leaves, is one of the most nutritious options you can offer birds. Given its softer texture, it's more natural for them to nibble and can be a good source of vitamins and minerals.
Butterhead Bibb Lettuce
With its smooth and slightly sweet leaves, butterhead lettuce can be another healthy choice for birds. Its soft texture makes it easily digestible and packed with beneficial nutrients to support the bird's overall health.
Romaine Lettuce
Romaine lettuce is a popular choice not only for humans but also for birds. Its long, sturdy leaves provide substantial nutrients, including fiber. Offering small, washed pieces of romaine can be a crunchy treat for our feathered friends.
Iceberg Lettuce
While iceberg lettuce is the least nutrient-dense among the listed types, it can still be a refreshing treat for birds, especially during warmer days. However, due to its high water content, it should be given in moderation to avoid potential digestive issues.
What Birds Enjoy Eating Lettuce?
Various birds may consume lettuce, whether they encounter it in the wild or it's offered to them by bird lovers or pet owners. Here are some birds that might show interest in lettuce:
Domesticated Birds/Pet Birds:
Parrots: Many parrot species, including African Greys, Amazons, and Macaws, can enjoy lettuce as part of a balanced diet.
Budgies (Parakeets): While they primarily eat seeds, budgies can also consume fresh lettuce, but it should be given in moderation.
Canaries and Finches: These tiny birds might nibble on lettuce, although they may show more interest in the seeds.
Cockatiels and Lovebirds: They can eat various greens, including lettuce.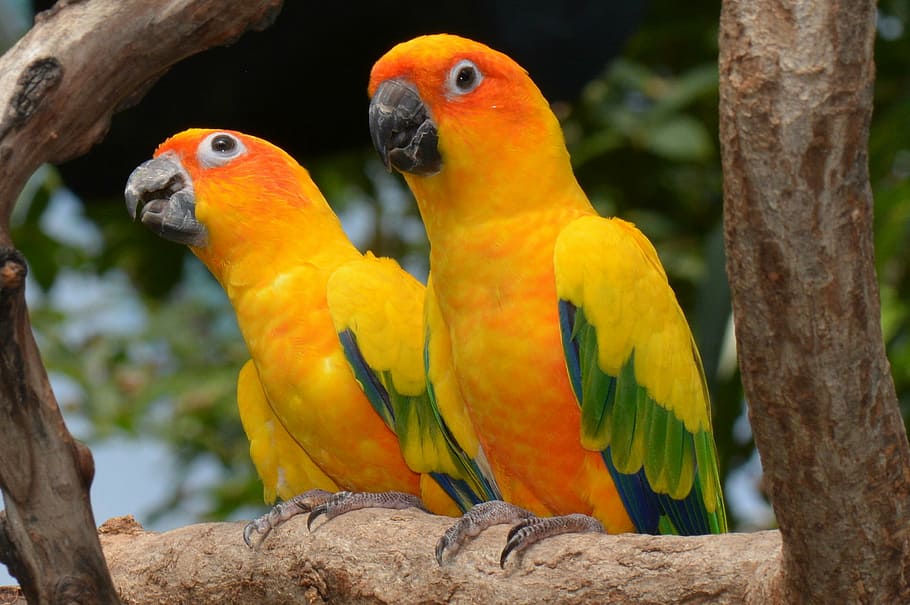 Wild Birds:
Sparrows: These common birds can be versatile in their diet and may consume lettuce if they come across it.
Goldfinches: They might be more interested in lettuce seeds, but some might nibble on the leaves, too.
Pigeons and Doves: These birds are known to eat various foods, including greens like lettuce.
Chickens: While domesticated, chickens allowed to forage often eat leafy greens, including lettuce.
Why Won't My Bird Eat Lettuce?
Some birds avoid consuming lettuce as it can be harmful to them. Lettuce carries a substance named lactucarium, which is detrimental to birds. This compound is present throughout the plant, from its leaves and stems to its flowers. Even in minimal amounts, lactucarium can lead to symptoms like vomiting and diarrhea in birds, and in significant amounts, it can be lethal.
Interesting Read: How to Actually Become a Bird Breeder: A-Z Guide
How Much Lettuce Is Safe For Birds?
When offering fresh lettuce to your bird, you can allow it to eat as per its preference. Add the lettuce to the feeding tray or bowl and let your bird indulge. The bird will naturally stop when it's complete.
However, it's essential to fill the tray appropriately. After the bird has finished eating, the tray should be removed and cleaned.
If you provide an excess of lettuce, you might have to throw away the leftovers later. It's wise to monitor and adjust the amount offered to avoid waste.
With time and observation, you'll learn the quantity your bird prefers. Indeed, fresh lettuce can be a valuable component of your bird's diet.
Related Read: Can Birds Eat Tomatoes? [Safe Vs. Unsafe Types]
How To Serve Lettuce To Your Bird?
One of the most effective methods for serving lettuce to your avian companions involves the following steps. Always ensure the lettuce is cleaned adequately before offering it:
Before presenting lettuce to birds, thoroughly rinse to eliminate any potential contaminants.
Chop the lettuce into small pieces tailored to the specific bird you're feeding.
If they're comfortable, you can hand-feed parrots by tearing off a leaf and offering it directly.
For wild birds, shred the lettuce leaves and scatter them on their feeding table, perhaps mixed with other fresh produce.
Refrain from giving your bird an excessive amount of lettuce.
Other Safe Vegetables For Birds
When considering a balanced diet for your avian companions, incorporating a variety of fresh vegetables is crucial. Here are some safe vegetable options to consider:
Carrots
Carrots are a nutritious vegetable option for birds. Rich in beta-carotene, which converts to vitamin A in the body, they're essential for maintaining good vision and overall health.
They can be offered raw, finely chopped or grated, or lightly steamed to make them softer for smaller birds.
Cute Read: Why Are Birds So Cute? 10 Reasons Why Birds Are Cutest
Spinach
Spinach is packed with vitamins and minerals, especially iron, making it a great leafy green for birds. However, it's essential to feed it in moderation because spinach also contains oxalic acid, which can interfere with calcium absorption if consumed in large quantities.
Pepper
Peppers, both sweet and chili varieties, can be a tasty and vitamin-rich bird treat. They're an excellent source of vitamin C and other antioxidants.
Many birds enjoy the spicy kick of chili peppers but always introduce them in small amounts to gauge their tolerance.
Broccoli
Broccoli is a nutrient powerhouse filled with vitamins, minerals, and antioxidants beneficial for avian health.
The florets can be an interesting texture for birds to nibble on, and the stalks, when chopped finely, can also be a treat. It can be given raw or lightly steamed.
Snap Peas
Snap peas are a crunchy and hydrating snack for birds. Rich in vitamin C and fiber, they provide a mix of sweetness and crunch that many birds appreciate.
They can be served whole for larger birds or sliced open for smaller ones to access the soft inner peas. Always ensure they're clean and pesticide-free before offering them to your bird.
Conclusion
In conclusion, while lettuce is safe for birds to consume, it shouldn't be the primary component of their diet due to its limited nutritional value. For optimal health, birds should have a varied diet of essential nutrients.
As always, when introducing any new food, observing your feathered friends for any adverse reactions is crucial to ensuring their overall dietary needs are met.
Read Next: Can Birds Eat Walnuts? – Dietary Guidelines and Tips
With a lifelong love for animals, I'm on a mission to empower pet parents with knowledge, heartwarming stories, and practical tips to create a world where our beloved friends thrive in happiness and health.