Why Do Birds Have Claws? The Real Reason Why!
7 September 2023
How Do Birds Clean Themselves – Understanding Avian Hygiene
9 September 2023
Have you ever witnessed birds fearlessly confronting hawks that are twice their size and strength and wondered, 'Why Do Birds Attack Hawks?' It's pretty intriguing, isn't it? This behavior, although peculiar, is quite common among bird species.
If such a scenario makes you think about this fascinating aspect of small birds' behavior, this article is for you!
Interesting Read: Why Do Birds Have Claws? The Real Reason Why!
Territorial Defense
Birds tend to attack hawks to protect their nests and young ones. The concept of territory for birds shares similarities with that of humans.
It's not a place where they reside but an area that provides them with access to food sources and serves as a sanctuary for raising their offspring. Like how humans would defend our homes from intruders, birds, too, may resort to attacking hawks to safeguard their territory.
On the other hand, hawks are predatory. Birds engage in these confrontations with hawks to drive them away and ensure the safety of their resources and babies.
This territorial aggression is a behavior that aids birds in preserving their habitats and ensuring their survival. Such behavior tends to be more prominent during breeding seasons when birds become more protective of their possessions and nestlings.
Birds have an instinct to protect themselves when hawks come too close. They take actions, like dive bombing the hawk, pecking at its head or wings, and making warning calls to inform other birds about the danger. Certain bird species have developed calls to alert their birds of the presence of a hawk.
Personal Protection
Hawks are known to prey on smaller birds, and when a hawk approaches too closely, birds will instinctively defend themselves. They may dive-bomb the hawk, peck at its head or wings, or emit warning calls to alert other birds of the potential threat. Some bird species have evolved specific calls to alert others about a hawk's presence.
Hawks are natural predators of smaller birds, making them a threat. Birds actively defend themselves, increase their chances of survival, and reduce the risk of becoming prey.
This self-defense behavior demonstrates the resourcefulness and adaptability of birds in the face of danger.
Protection of Community
Many bird species live in social groups or flocks and rely on each other for safety and support. When a hawk poses a danger to the group, birds unite and launch coordinated attacks to drive away the predator.
By working together, they increase their chances of success and minimize the risk to individual members.
This collective defense mechanism is an impressive display of teamwork and cooperation among birds. Birds may dive-bomb hawks to distract and disorient them.
Also Read: How Do Birds Clean Themselves – Understanding Avian Hygiene
Mobbing Behavior
Mobbing involves multiple birds attacking a hawk simultaneously. Birds often form groups to mob and harass hawks, making hunting or flying difficult. When birds engage in mobbing, they exhibit various behaviors intended to disorient the predator.
This can include dive-bombing the predator from above, swooping down to peck or claw at it, and emitting loud alarm calls to attract other birds to join the mobbing. The mobbing behavior of birds towards hawks is believed to be a form of cooperative defense.
Mobbing in birds is a fascinating behavior exhibited by many species. It can communicate within bird communities where smaller birds aggressively target and harass a giant predator, such as a hawk.
It can also be a way for little birds to show their dominance over much larger birds and behavior to assert their social status within a group or a community.
Hormonal Changes
Mobbing behavior is more common during the breeding season since birds experience hormonal fluctuations that can affect their behavior.
For example, male birds may experience increased testosterone levels, leading to heightened territoriality and aggression. This aggression is often directed towards intruders, including hawks, who may threaten their nests or mates.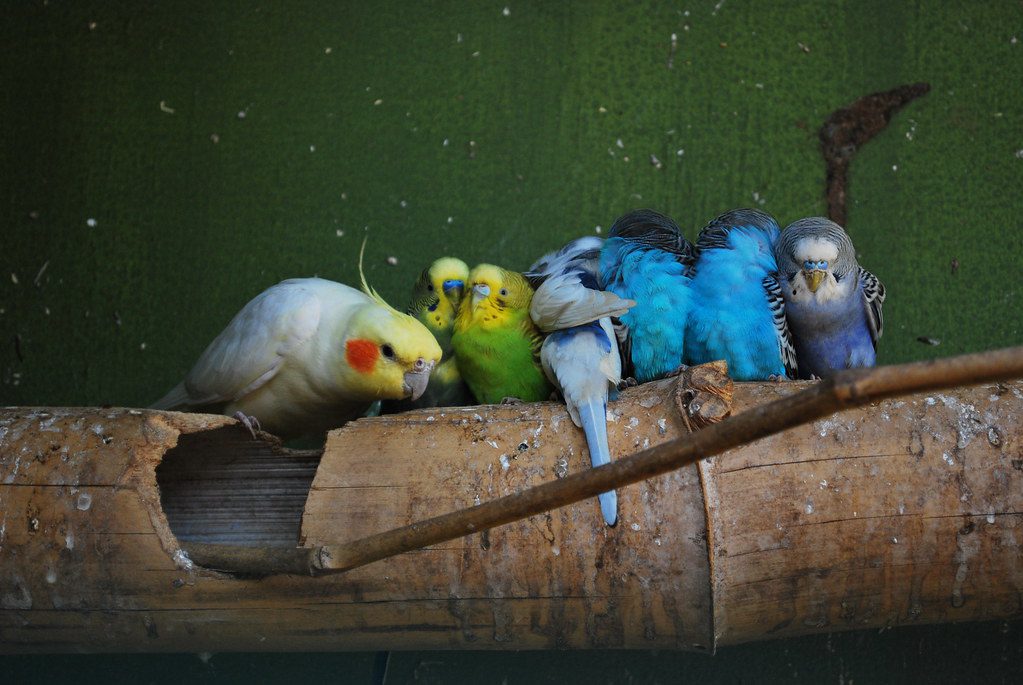 In addition to the breeding season, hormonal changes can occur during other phases of a bird's life cycle, such as molting or migration. For instance, during molting, birds replace old feathers with new ones, which can be physically demanding and stressful.
This stress and hormonal fluctuations can make birds more irritable and aggressive. Therefore, birds may attack hawks even if they are not directly threatened.
Some species may be more tolerant or less territorial, while others may be highly aggressive in defending their territory. Other factors, such as previous experiences, social dynamics, and environmental cues, also play a role.
Bird Species That Frequently Attack Hawks
Some species of birds, such as crows and mockingbirds, are particularly aggressive towards hawks. However, it is essential to note that not all birds will attack hawks.
Many birds try to avoid them or seek cover when a hawk is nearby. Attacking a hawk is often driven by the need to protect their nests, territory, or young.
Birds use a variety of tactics to attack hawks, including dive-bombing, swooping, and vocalizing loudly. These behaviors not only help to keep the hawk at bay but also serve as a warning to other birds in the area.
Sparrows
Certain species of smaller birds, such as sparrows, have also been observed attacking hawks. Sparrows attacking hawks may seem unusual, but it is common in the avian world.By attacking hawks, sparrows are attempting to chase them away and ensure the safety of their species.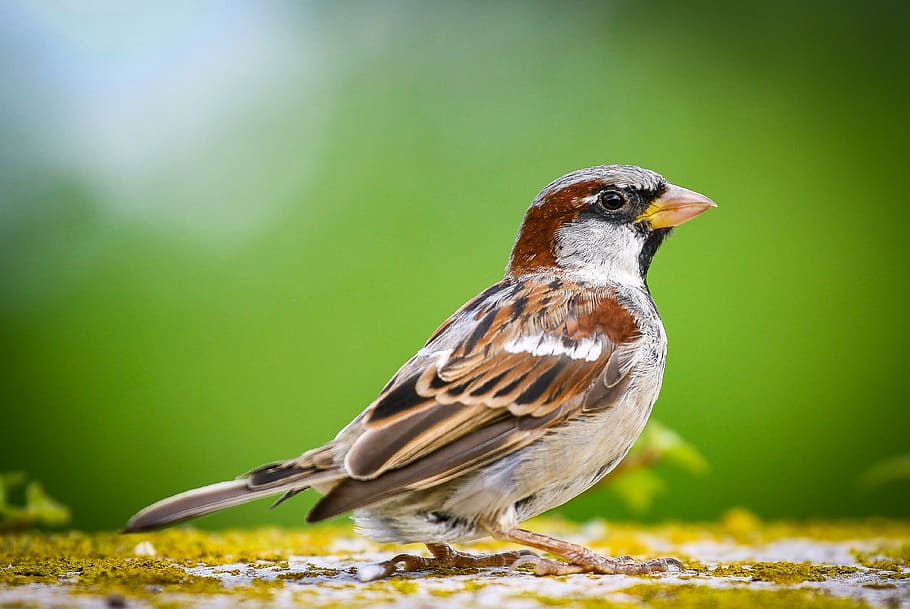 This behavior is an instinct for sparrows to protect their young from potential harm. Another reason sparrows attack hawks is to protect their territories.
Birds, including sparrows, establish territories for breeding and foraging. When a hawk enters their territory, it is seen as an intruder. Sparrows will then engage in mobbing, where multiple birds join forces to harass and intimidate the hawk.
American Crow
Crows are brilliant birds and have been observed mobbing hawks to protect their nests or territory. Baby crows remain in their nests for 30 days, making them a desirable target for predators such as hawks.
If the hawk poses a threat, crows gather in groups and dive bomb the hawk, making loud calls and swooping down from above.
This behavior is believed to be a defense mechanism to deter the hawk from coming too close to their nesting areas. Crows are known for their boldness and will not hesitate to confront a giant bird of prey like a hawk.
Crows are opportunistic omnivores, scavenging for food and also hunting small animals. Hawks, on the other hand, are skilled predators that primarily hunt small mammals and birds.
This difference in diet creates a natural competition between the two species for prey, which can lead to conflicts and aggression.
When birds defend their territories or protect their young, even the smallest species can show significant courage and determination.
This behavior can often be seen in the interactions between smaller birds and hawks. Nonetheless, the attacking abilities and strategies can vary significantly from one species to another.
Robins
Some birds, such as the American Robin, have been observed to attack hawks even when they are not a direct threat.
While it may seem surprising for a small bird like Robin to challenge a much larger predator, there are several reasons why this behavior occurs. When a hawk enters their territory, the robins perceive it as threatening their eggs or chicks and respond by attacking.
Another reason robin birds may attack hawks is to divert their attention away from their nests. By engaging in aggressive behavior towards the hawk, the robins attempt to draw the predator's focus towards themselves rather than their vulnerable offspring.
Additionally, it is believed that the bright red breast of the robin may play a role in triggering their aggressive response towards hawks. The vibrant coloration of the robin's chest is thought to act as a visual signal, warning the hawk that it is entering the territory of a highly defensive bird.
Northern Mockingbird
Mockingbirds are known for their bold and fearless nature when defending their territories. The mockingbird views the hawk as a potential threat and aims to intimidate and drive away the hawk from its territory, ensuring the safety of its offspring.
Another reason why mockingbirds attack hawks is to protect their food sources. Hawks are skilled hunters and can threaten smaller birds and their prey.
Mockingbirds, being omnivorous, rely on various food sources, including insects, fruits, and berries. By attacking hawks, mockingbirds defend themselves and safeguard their access to food resources, ensuring their survival and that of their offspring.
Mockingbirds are known for their ability to mimic the calls of other birds, and they often use this skill to their advantage during attacks on hawks. Mockingbirds can attract other birds to join in the attack by mimicking the distress calls of other birds, creating a united front against the hawk.
Kingbirds
Kingbirds are known for building their nests in trees or shrubs in open areas. These nests are vulnerable to predators, including hawks. When a hawk approaches their nesting area, kingbirds perceive it as threatening their eggs or chicks.
To safeguard their offspring, kingbirds engage in aerial attacks, using their sharp beaks and strong wings to intimidate and drive away the intruding hawk.
These small, agile birds are known for their fearlessness and willingness to defend their territory. The phenomenon of kingbirds attacking hawks is a natural response driven by the instinct to protect their resources. By engaging in aggressive behavior, kingbirds effectively scare off hawks.
Jays
Blue jays are attempting to neutralize the threat by mobbing hawks and preventing potential harm to themselves or their avian companions.
They are known to be brilliant birds, and their mobbing behavior may also be a way to assert dominance and establish their presence in the area. They also aim to protect themselves, their offspring, and their territory by mobbing hawks.
Blue jays are known for their bold and aggressive nature, and when they encounter a hawk in their territory, they often engage in mobbing behavior. This behavior is not limited to hawks alone; blue jays may also mob other predators, such as owls and snakes.
Finches
Hawks are often seen as intruders in the habitat of smaller birds, and by aggressively confronting them, finches assert their ownership of the area. This territorial defense is crucial for finches to secure resources such as food, shelter, and mates. By discouraging hawks from their territory, finches increase their chances of survival and reproductive success.
By joining forces and attacking a predator, finches increase their chances of successfully repelling the threat. It is important to note that not all finches engage in attacking hawks.
The behavior varies among different species and individuals. Some finches may be more prone to aggression and actively defend against hawks, while others may rely on alternative strategies such as camouflage or hiding to avoid predation.
Blackbirds
Blackbirds are more likely to attack hawks if they have an advantage of numbers. By mobbing together, blackbirds can overwhelm the hawk and increase their chances of successfully driving it away.
The combined effort of multiple birds swooping, diving, and vocalizing can be highly distracting and disorienting for the hawk, making it less effective in its hunting attempts.
This strategy allows the blackbirds to level the playing field and protect their nests or feeding grounds. Male blackbirds fiercely defend their nesting territories from intruders, including other birds, animals, and even humans.
They will vigorously chase away any perceived threat, including hawks, to protect their nests and ensure the survival of their offspring.
Comparison of Attacking Abilities in Different Birds
Regarding the prowess of birds attacking hawks, the abilities and tactics vary greatly. Each bird species employs its unique strategies and techniques, taking advantage of their strengths and the hawks' weaknesses.
| Species | Defensive Strategy | Effectiveness Against Hawks |
| --- | --- | --- |
| Sparrows | They mostly rely on their numbers and agility to confuse and deter the attacker. | Low to moderate. Sparrows can usually deter hawks, but they are not always successful. |
| American Crows | Known for their intelligence, crows use their numbers and strategic attacks to overwhelm and intimidate hawks. | High. Crows are often successful in driving away hawks from their territory. |
| Robins | While robins are not typically aggressive, they can become so when their nests are threatened. | Low. Robins' attacks are usually not potent enough to deter a determined hawk. |
| Northern Mockingbirds | Their strategy is to harass and make a lot of noise to discourage the predator. They can also mimic the call of a larger bird to frighten hawks. | Moderate. The success of their strategy depends on how determined the hawk is. |
| Kingbirds | Kingbirds are known for their aerial acrobatics and aggressive diving attacks on intruders. | High. Kingbirds are often successful in driving away larger birds, including hawks. |
| Jays | Jays are known for their loud, aggressive behavior and will often mob and harass hawks until they leave. | High. Jays are usually very effective in driving off hawks. |
| Finches | Finches usually fly in large groups and use their numbers to overwhelm and confuse hawks. | Moderate. While their group strategy can deter hawks, lone finches are vulnerable. |
| Blackbirds | Blackbirds are known for their mobbing behavior, where they aggressively swarm hawks to drive them away. | High. Blackbirds often successfully chase hawks away, especially in large numbers. |
Comparison of Attacking Abilities
Do Hawks Perceive Flock of Birds as a Threat?
While hawks primarily hunt smaller animals like rodents and birds, they do not typically perceive many birds as a direct threat.
In some cases, hawks may also perceive a flock of birds as a potential threat to their offspring. Hawks are more likely to be attacked during their breeding season when actively defending their nests.
They are protective parents and will defend their nests from any perceived danger. If a group of birds approaches a hawk's nest, the hawk may interpret this as a threat to its young and respond aggressively.
Therefore, while hawks may not see the number of birds as a direct threat to themselves, they may perceive it as a threat to their nesting sites and offspring.
Conclusion
It's essential to eliminate misconceptions about the avian world's nature as purely harmonious. Birds, even those more minor and less imposing than hawks, will not hesitate to attack if they perceive a threat to their territory, their safety, or the safety of their community.
So, the next time you spot a flock of birds dive-bombing a passing hawk, you'll know precisely why this counterintuitive behavior occurs.

Hi there! I'm Umar, a devoted pet lover and writer. I'm here to share my insights and experiences about all things pets. From training tips to heartwarming tales, join me in navigating the wonderful world of animals!