Why Do Some Birds Have Red Eyes? [EXPLAINED]
15 September 2023
Can Birds Have Milk? Different Types of Milk Analyzed!
16 September 2023
Perhaps nothing more confusing than an unexpected squawk or a sudden bite from our tiny friends. But do you ever wonder why birds get aggressive in such an unpredictable way?
As a bird enthusiast, understanding the complex nature of bird behavior can provide gallons of insights. In this article, we will be peeling back the feathered curtain to explore the reasons behind this unexpected hostility and how to manage them.
Also Read: Why Do Birds Have Claws?
The Fascinating World of Bird Behavior
Aggression in birds can be a learned behavior or a naturally existing trait. It spawns from various factors, ranging from the specificity of the species to changes in their environments.
While we often portray birds as peaceful, avian aggression is also a facet of their world. It is nature's way of equipping them with the means to defend themselves against threats, protect their young ones, and mark their territory.
It's crucial for their survival, but understanding why they do what they do can build a closer bond between you and the birds you admire.
Specific Behaviors Indicating Bird Aggression
Recognizing these behaviors is a crucial first step toward understanding and managing bird aggression. Captivating as they may be, these behavioral alterations are not a spectacle but a call for intervention.
As bird enthusiasts, we must decipher these subtle cues and take the necessary steps to restore peace.
This can include aggressive vocalizations, such as loud calls or screeches, as well as physical displays, like fluffing up feathers, spreading wings, or lunging toward the intruder.
Aggressive behavior can also include chasing, pecking, or even physically attacking the rival bird.
In addition to specific behaviors, there are also warning signs that indicate bird aggression. These warning signs include raised crest feathers, dilated pupils, staring or fixed gaze, rapid head movements, and bill snapping.
Birds may also exhibit defensive postures, such as crouching low to the ground.
The Reasons Behind Why Do Birds Get Aggressive
Why do birds delve into acts of seemingly aggressive behavior, potentially harming themselves and others? Is it due to inherent natures baked into their tiny bodies and rapid-beating hearts? Or is it a consequence of external factors that incite them to such actions?
Shedding light on these intriguing questions calls for us to dive deep into the complex world of bird behavior.
Nesting and Territoriality
One of the most common reasons for bird aggression is related to nesting and territoriality. Like other creatures, birds establish territories they zealously guard, especially during the breeding season.
Northern Mockingbirds are known for their territorial behavior and will vigorously defend their nesting sites and surrounding areas. They will exhibit aggressive behaviors like dive-bombing, chasing, and vocalizing loudly to deter the intruder.
Nesting birds may also become aggressive to protect their eggs or chicks. This is commonly observed in species such as robins and sparrows.
Such displays may include swooping down onto intruders, making loud noises, or even pecking the threat.
Resource Competition
Some bird species use aggression as a means of establishing social hierarchies. Birds establish a pecking order or dominance hierarchy in a flock or group setting. This hierarchy determines access to food, mates, and other resources.
The Northern Cardinal is another bird species that uses aggression to establish social hierarchies. The dominant male cardinal will have access to the best food sources, while subordinate males will have to settle for less desirable feeding areas.
When birds feel their position in the hierarchy is being challenged, they may display aggressive behaviors to assert their dominance or defend their status. This can include chasing, pecking, or bullying other birds in the same group.
Editor's Pick: Why Do Birds Walk Funny? Different Types of Bird Walk
Defending Mates
Fascinatingly, birds can also get aggressive when defending their mates. Certain species, such as swans, geese, and some species of raptors, have been observed engaging in fights to maintain their pair bonds.
Engaging in this type of behavior is a way birds ensure their progeny's survival, thus benefiting their genetic lineage.
Stress and Disturbance
Lastly, stress or disturbance can lead to bird aggression. Human activities or predation presence in their habitats can lead to profound stress among birds. Over time, this can cause changes in their behavior patterns, sometimes culminating in aggression.
As an example, if birds are repeatedly disturbed by human activity near their nests, they may develop an aggressive response to humans in general.
Perceived Danger
Birds have a strong instinct for self-preservation and they may display aggressive behavior as a response to perceived threats as a means of protecting themselves.
This can happen if a person or another animal approaches too closely or makes sudden movements that startle the bird. It's important for bird owners to understand and respect their pet's personal space to avoid triggering aggressive reactions.
Hormonal Changes
During the breeding season, hormonal fluctuations can lead to increased territoriality and aggression as birds compete for mates and nesting sites. Male birds, in particular, may become more aggressive to establish their dominance and attract a mate.
For example, male red-winged blackbirds exhibit aggressive behavior during breeding season. They will vigorously display their red shoulder patches and vocalize loudly to intimidate other males and attract females. This aggressive behavior is directly linked to the hormonal changes occurring during this time.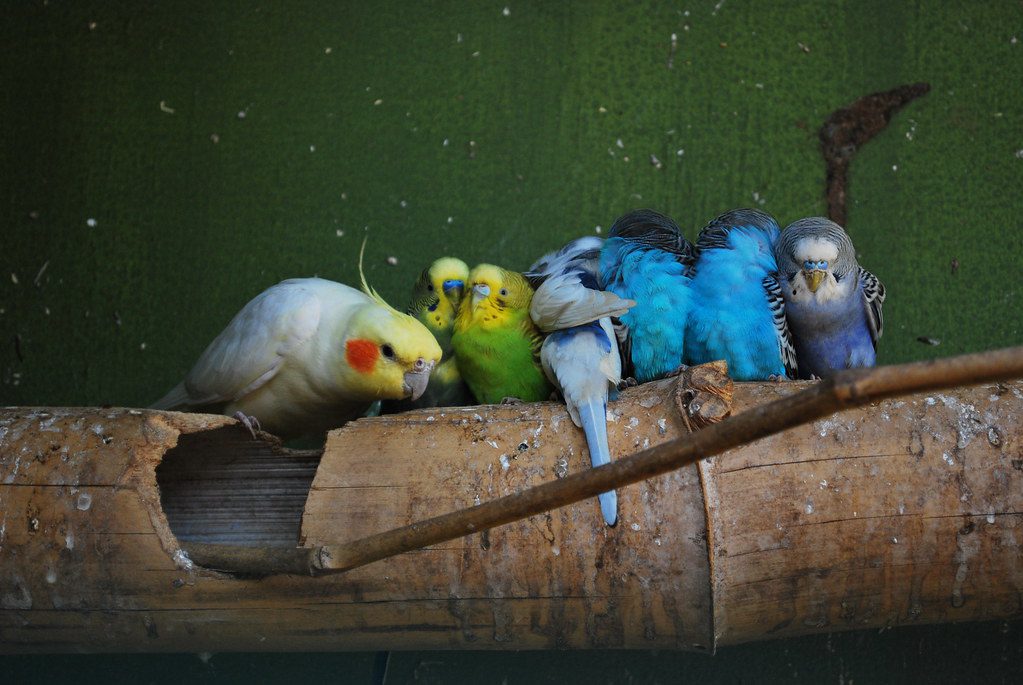 It's important for bird owners to be aware of these hormonal changes and provide appropriate outlets for their birds' natural behaviors, such as nesting materials and opportunities for courtship displays.
Role of Genetics
Certain breeds or individual birds may have inherited traits that make them more prone to aggressive behavior.
By ensuring that birds are bred from parents with good temperaments and providing them with positive social experiences from a young age, we can greatly reduce the likelihood of aggression in these birds.
Birds that are not properly bred or socialized may exhibit aggressive behaviors due to fear, stress, or a lack of understanding of appropriate social interactions.
Bird Aggression Among Various Bird Species
Some species are known for their highly aggressive behavior, while others are relatively peaceful. Examples of highly aggressive species include the Northern Mockingbird and Eurasian Magpie, while relatively peaceful species include the American Goldfinch and Mourning Dove.
Birds that defend large territories or have limited access to food sources may exhibit more aggressive behavior to protect their resources.
On the other hand, species that live in close proximity to each other and have abundant food sources may exhibit less aggression.
Some species even display elaborate courtship rituals that involve aggressive displays to attract mates. This behavior is particularly evident in species like the American Robins.
The size and physical characteristics of bird species also play a role in their aggression levels. Larger birds, such as raptors or waterfowl, tend to be more aggressive due to their need to defend larger territories and resources.
On the other hand, smaller bird species may rely more on vocalizations and displays to assert dominance and avoid physical confrontations.
Social structure and hierarchy within bird species can also influence aggression levels. Some bird species, like crows or ravens, have complex social structures where dominant individuals establish hierarchies and exert control over others.
On the contrary, species that live in more solitary or loosely structured groups may exhibit less aggression towards conspecifics.
A Comparative Look at Aggression in Different Birds
Every bird species has unique triggers that may provoke aggression. Understanding these triggers can give us a deeper insight into their behavior. The below table outlines several bird species mentioned along with their main aggression triggers.
| Bird Species | Aggression Triggers |
| --- | --- |
| Sparrow | Territory Encroachment |
| Parrot | Lack of Social Interaction, Resource Competition |
| Pigeon | Food Scarcity, Overcrowding, Perceived Danger |
| Hawk | Nest Threats, Danger to Offspring |
| Eagle | Mating Rivalry, Resource Competition |
| Peacock | Mate Attraction |
| Swan | Protecting Cygnets |
| Seagull | Food and Territory |
| Crow | Nest Invasion, Hierarchy Establishment |
A bird's aggression can be influenced by multiple factors. These include environmental changes, perceived threats, the need for food, and many more. The triggers mentioned here are some of the common ones associated with each species.
Managing Bird Aggression
Bird aggression can lead to injuries and stress for both birds and humans. By actively managing aggression, we can prevent potential harm and ensure everyone involved has a safe and enjoyable experience.
Provide them with a spacious and enriched environment. Birds need plenty of space to fly and exercise, as well as various toys, perches, and hiding spots to keep them mentally stimulated.
Reward them with something they find pleasurable, such as a favorite treat or verbal praise.
Provide multiple feeding stations and nesting boxes to reduce competition. They can also create a bird-friendly environment with plenty of natural food sources and hiding spots to minimize any disputes.
Establish a consistent routine for your bird. This includes providing regular feeding times, play sessions, and social interaction.
Another step is to ensure that bird feeders and birdbaths are placed in safe locations, away from potential predators.
Avoid punishing or yelling at your birds when they display aggressive behavior.
Avoid forcing your bird into uncomfortable situations.
Consult with an avian veterinarian to ensure you provide the right diet for your bird's needs.
Interesting Read: How Do Birds Clean Themselves – Understanding Avian Hygiene
Conclusion
In the realm of avian behaviors, aggression holds a prominent place. While we observe these aggressive interactions through a human lens, it's equally important to recognize that each bird species, from songbirds to raptors, articulates aggression in its unique way. Above all, let us remember that aggression is a small fragment of avian behavior's grand mosaic. As we continue to enjoy and appreciate our feathered friends, let's remember to treat them with kindness and respect, recognizing aggression as part of a broader spectrum vital for their survival.
With a lifelong love for animals, I'm on a mission to empower pet parents with knowledge, heartwarming stories, and practical tips to create a world where our beloved friends thrive in happiness and health.