Do Birds Like Birdhouses? How to Attract Birds to Your Birdhouse
19 September 2023
What To Do When Your Bird Bites You? A Complete Guide
20 September 2023
Are you dreaming of turning your bird passion into a career or hobby? As a prospective bird breeder, a rich world of knowledge, experience, and skill known as aviculture awaits you!
Remember, bird breeding is not easy; it requires patience, dedication, and an understanding of avian behavior and individual needs. In this guide, we'll walk you through becoming a bird breeder, ensuring you are well-equipped to embark on this remarkable journey.
Recommended Reading: Why Are Birds So Cute? 10 Reasons Why Birds Are Cutest
What To Know Before Becoming A Bird Breeder?
Bird breeding is not simply about producing more birds; it's a complex realm where biology, patience, warm-heartedness, and a keen eye for detail converge.
The average lifespan of a breeding bird can vary depending on the species. Each species has fascinating characteristics. Some birds have stunningly colorful plumage, others might have extraordinary songs or melodious calls, and many might engage in fanciful courtship rituals.
Bird breeders often find immense satisfaction and joy in their work as they contribute to the continuation and growth of particular species and nurture meaningful companionship with these extraordinary creatures.
8 Important Steps To Become A Bird Breeder
It is essential to understand that breeding birds is a complex and delicate process that requires knowledge, experience, and dedication.
If you are considering becoming a bird breeder, here are some steps to help you get started.
1. Selecting Healthy Birds
When choosing birds for breeding, it is crucial to consider their overall health and genetic background. Look for birds that have bright and alert eyes, clean and smooth feathers, and good body condition.
Avoid birds that show signs of illness, such as discharge from the eyes or nostrils, labored breathing, or abnormal behavior. It is also essential to check for any physical deformities or abnormalities affecting the bird's ability to breed or raise chicks.
Another critical aspect to consider when selecting birds for breeding is their behavior and temperament. Look for birds that exhibit natural and expected behaviors, such as singing, foraging, and interacting with their environment.
2. Maintaining Genetic Diversity
Breeding birds with good genetic diversity can help prevent inbreeding and reduce the risk of genetic disorders. Research the lineage of the birds and try to select individuals from different bloodlines to maintain a healthy gene pool.
Avoid closely related breeding birds, which can lead to a higher likelihood of genetic abnormalities.
This helps prevent the spread of harmful recessive genes that can cause congenital disabilities and severely affect birds' overall health and lifespan.
3. Suitable Breeding Setup
Some bird species require specific nesting materials and structures to breed successfully. The first step is to choose an appropriate enclosure or aviary for your birds. The enclosure size will depend on the species you plan to generate and the number of birds you want to keep.
It should provide enough space for the birds to fly, exercise, and engage in natural behaviors. Additionally, the enclosure should be secure and predator-proof to ensure the safety of your birds.
The next consideration is the nesting area. Different bird species have other nesting preferences, so it's essential to research the specific requirements of the birds you plan to breed.
4. Hygienic Environment
Creating a hygienic environment is crucial in bird breeding to ensure the health and well-being of both the birds and the breeder.
Cleanliness: Regularly cleaning the bird cages, perches, and surrounding areas is essential. Remove any droppings, uneaten food, and debris daily to prevent the accumulation of dirt and bacteria.
Ventilation: Maintain fresh air and prevent the buildup of harmful gases like ammonia. Ensure the birds' breeding area has adequate airflow, but avoid exposing the birds to drafts or extreme temperature fluctuations.
Quarantine: Implement a quarantine system for new birds entering your breeding facility. This helps prevent the spread of diseases to your existing flock. Keep new birds separate for a while and monitor them closely.
Pest Control: Regularly inspect the breeding area for signs of pests such as mites, lice, or rodents. Use appropriate pest control measures to eliminate any infestations and prevent their recurrence.
Water and Food Hygiene: Change the water daily and clean the water containers regularly to prevent the growth of harmful bacteria. Similarly, ensure the bird's food is stored correctly to avoid contamination.
5. Nutritious Diet
A well-balanced and varied diet is essential to meet their nutritional needs. Understanding the nutritional benefits of various bird foods is integral to being a successful bird breeder.
By expanding your knowledge of these vital dietary components, you can ensure your feathered friends get the required nourishment.
| Food type | Nutritional benefits | Bird Species |
| --- | --- | --- |
| Seeds | High in fat, protein, and fibre. They also contain essential minerals and vitamins. | Canaries, Finches, Budgerigars, and other seed-eating birds. |
| Pellets | Nutritionally balanced, providing essential protein, vitamins, and minerals. | Parakeets, Macaws, and other birds that benefit from a varied diet. |
| Fruits | Provide natural sugar, fibre, and a wide range of vitamins, particularly Vitamin C. They also contain antioxidants, which can boost a bird's immune system. | Particularly tropical birds like Parrots and Cockatiels. |
Remember to consult with a professional veterinarian or avian nutritionist to help customize your bird's diet based on their species and health condition. However, consider changing the diet in this table according to your bird's needs.
Related Reading: Can Birds Have Milk? Different Types of Milk Analyzed!
6. Monitoring Breeding Behavior
By closely observing their behavior, breeders can gain valuable insights into their birds' health, well-being, and reproductive status.
Courtship Behavior
One of the critical behaviors to monitor is courtship behavior. This includes observing the male bird's displays and vocalizations and the female bird's response.
Courtship behavior indicates that the birds are ready to mate and can help breeders determine the optimal time for breeding.
Nesting Behavior
Another vital behavior to monitor is nesting behavior. This involves observing the birds' construction of nests, their choice of nesting materials, and their overall dedication to nest-building.
Feeding Behavior
Additionally, it is essential to monitor the birds' feeding behavior. This includes observing their appetite, food preferences, and feeding patterns. Changes in feeding behavior can indicate health issues or stress in the birds, which can impact their breeding success.
Reproductive Behavior
Lastly, it is crucial to monitor the birds' reproductive behavior. This includes observing mating rituals, copulation, and egg-laying. Breeders should keep track of the frequency and success of mating attempts, as well as the timing and condition of the eggs.
7. Hatching Eggs Successfully
Ensuring the eggs are good quality and stored adequately before incubation is crucial. This means selecting eggs that are clean, undamaged, and free from any cracks or abnormalities.
It is also essential to store the eggs in a cool and dry environment, with a consistent temperature and humidity level, to maximize their chances of successful hatching.
Reliable Incubator
Once the eggs are ready for incubation, providing them with the right conditions for development is essential. This involves using a reliable and accurate incubator that can maintain a stable temperature and humidity level throughout the incubation process.
Generally, the temperature should be between 99 to 101 degrees Fahrenheit (37 to 38 degrees Celsius), and the humidity should be maintained at around 50 to 60 percent.
Setting up a Brooder
As the hatching day approaches, creating a suitable environment for the newly hatched chicks is essential. This includes a brooder with appropriate temperature and humidity levels and providing a clean and safe space for the chicks to thrive.
The brooder should initially be set at around 95 degrees Fahrenheit (35 degrees Celsius) and gradually decrease by 5 degrees Fahrenheit (3 degrees Celsius) each week.
8. Nurturing Chicks Growth
Nurturing chicks requires careful attention and dedication to ensure the healthy growth of the chicks.
Suitable Nesting Environment
This includes a clean and comfortable nest box with proper bedding material. The nest box should be placed in a quiet, secure location to minimize disturbances.
Feeding the Chicks
Depending on the bird species, their diet may vary. It is crucial to research and understand the specific dietary requirements of the chicks.
A balanced diet consisting of various seeds, fruits, vegetables, and protein sources is necessary for their healthy development.
Regular Monitoring
Regular monitoring of the chicks' health is vital during their growth. This involves observing their behavior, appearance, and weight. Any signs of illness or abnormality should be addressed promptly.
Socialization of Chicks
Socialization is also an essential aspect of nurturing chicks. It is beneficial to expose them to human interaction from an early age.
This helps them become accustomed to human presence and reduces stress when handling them for necessary tasks such as health check-ups or transferring them to new environments.
Also Read: Why Hummingbirds Are More Active In The Rain? EXPLAINED!
The Importance of Responsible Bird Breeding
Bird breeders play a crucial role in conservation efforts for endangered bird species. Stepping into the shoes of a bird breeder is an intricate and demanding role, not merely a hobby.
As a breeder, you will be responsible for more than just physical care; you will play a significant part in bird species' beauty, diversity, and conservation.
In-Depth Knowledge
One of the primary roles you'll shoulder as a bird breeder is gaining and applying in-depth knowledge about different bird species, their individual needs, and behaviors.
Comprehensive knowledge of bird taxonomy, sexual dimorphism, the breeding season and cycles of various bird species, unique mating rituals, and behavior, feeding and nutrition requirements, including nursing young ones, and understanding signs of distress, illness, or well-being are all crucial areas you will need to explore.
Preventing Illegal Trading of Birds
Regrettably, illegal bird trafficking remains a significant global issue. Certain exotic and endangered bird species are often captured or bred for the illicit pet trade.
This illegal activity can worsen the extinction risk of these species severely. As a responsible breeder, you play a crucial role in mitigating this illicit trade by sourcing and breeding birds ethically and transparently.
Ethical and Legal Considerations
Some species may require permits or licenses to breed, while others may be protected or endangered and cannot be reproduced without specific permissions.
Responsible bird breeders must be familiar and compliant with these legal realities while appreciating their actions' ethical implications.
Common Breeding Problems
By understanding common avian health issues comprehensively, we can intervene promptly and effectively, thus ensuring a thriving and vibrant bird population in our care.
Preventing and treating common breeding problems in birds is essential for the well-being of both the parent birds and their offspring.
Egg Binding
One common issue that breeders often encounter is egg binding, where a female bird cannot pass an egg through her reproductive tract.
It is a severe and potentially life-threatening condition that requires immediate attention. There are several reasons why a bird may become egg-bound, including calcium deficiencies, inadequate nesting materials, or genetic predisposition.
Solution
To prevent this, it is vital to provide a balanced diet rich in calcium and vitamin D and ensure that the nesting materials are clean and comfortable.
If egg binding does occur, it is crucial to seek veterinary assistance immediately to prevent serious complications.
Infertility
As birds age, their reproductive systems may become less efficient, decreasing fertility.
It is essential to consider the age of the birds you are breeding and understand that fertility rates may decline as they age.
Another factor that can contribute to infertility is improper nutrition. Birds require a balanced diet to maintain optimal reproductive health. A lack of essential nutrients can affect their ability to produce healthy eggs or sperm.
Additionally, stress can play a significant role in infertility. Birds exposed to high stress levels, whether from environmental factors or improper handling, may experience difficulties in breeding.
Solution
To prevent infertility, it is crucial to provide a nutritious diet that includes a variety of fresh fruits, vegetables, and high-quality bird pellets.
Additionally, ensuring that the breeding environment is stress-free and providing adequate rest periods between breeding attempts can help increase fertility. Consulting an avian veterinarian can help identify and address any underlying health issues if infertility persists.
Premature Hatching
In some cases, breeders may encounter problems with chicks hatching prematurely or experiencing developmental abnormalities. Genetic factors, improper incubation conditions, or infections can cause these issues.
Solution
To prevent such problems, it is crucial to maintain proper temperature and humidity levels during incubation, regularly monitor the development of the embryos, and ensure that the breeding environment is clean and free from potential sources of infection.
If abnormalities are observed, it is essential to consult a veterinarian specializing in avian medicine for appropriate diagnosis and treatment.
Respiratory Infections
One of the most common health issues that can affect both parent birds and chicks is respiratory infections.
Bacteria, viruses, or fungi can cause these infections, leading to severe illness or even death if left untreated.
Bird breeders need to be aware of the signs and symptoms of respiratory infections and the steps they can take to prevent and treat them.
Solution
To prevent respiratory infections, it is essential to maintain good hygiene practices, such as regular cleaning of cages and nesting areas, providing proper ventilation, and avoiding overcrowding.
If respiratory symptoms are observed, such as difficulty breathing or nasal discharge, it is crucial to seek veterinary care promptly to prevent the spread of infection and ensure appropriate treatment.
Ideal Bird Species for Breeding
Bird breeders often specialize in specific species or groups of birds. Starting with a relatively easy species to breed and care for is recommended if you are a beginner. Another factor to consider when choosing a bird species for breeding is the availability of resources.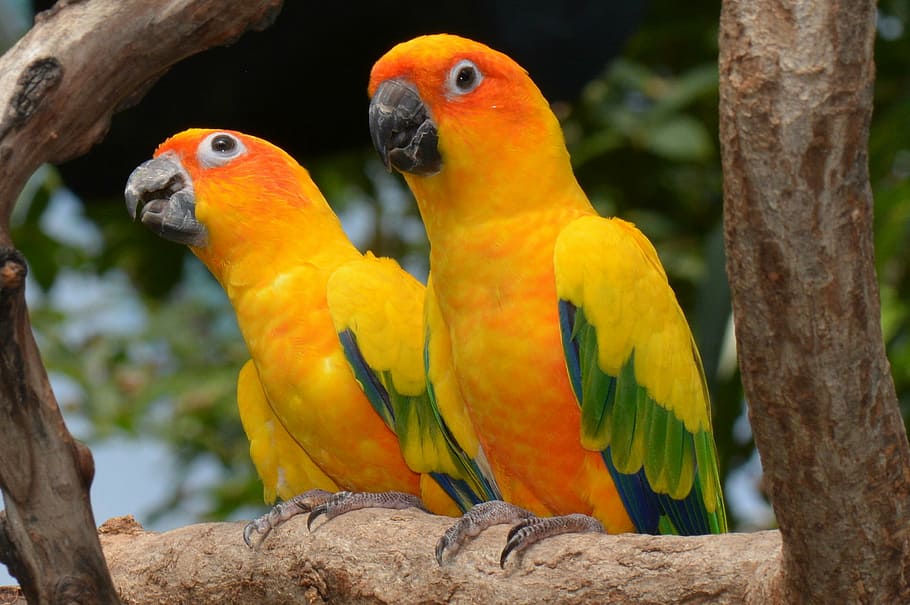 Different bird species have different dietary and environmental needs. It is essential to research and ensure that you can provide the necessary resources for the species you are interested in breeding.
Finches
Finches are famous for bird breeding due to their small size, low maintenance requirements, and beautiful songs.
Various finch species are available, such as zebra finches, society finches, and Gouldian finches.
These birds are relatively easy to breed, and their nests are typically built in enclosed areas. They require a balanced diet of seeds, fresh fruits, and vegetables.
Canaries
Canaries are another commonly bred bird species known for their melodic songs and vibrant colors. Male canaries are particularly sought after for their singing abilities.
The canaries require a spacious cage with proper ventilation and a diet rich in seeds, greens, and occasional fruits.
Breeding canaries involves providing them with a suitable nesting area, such as a small nest box or a woven nest.
It is important to note that male canaries should be separated from females after breeding to prevent aggression and stress.
Budgies/Parakeets
Budgies, also known as parakeets, are highly sociable and intelligent birds that are relatively easy to breed.
Budgies require a spacious cage with plenty of toys and perches for mental stimulation. A balanced diet consisting of seeds, pellets, fresh fruits, and vegetables is essential for their health and breeding success.
A suitable nesting box or a coconut shell will encourage budgies to breed.
Recommended Read: Why Do Birds Walk Funny? Different Types of Bird Walk
Cockatiels
Cockatiels are popular bird species for breeding due to their friendly and affectionate nature. They are known for their distinctive crests and ability to mimic sounds.
Cockatiels require a large cage with plenty of toys, perches, and a nesting box. Their diet should include a mix of seeds, pellets, fresh fruits, and vegetables.
Breeding cockatiels involves providing a suitable nesting area, such as a wooden nest box or a nesting log.
Lovebirds
Lovebirds are small, colorful birds known for their strong pair bonds and playful nature.
They require a spacious cage with plenty of toys, perches, and a nesting box. Lovebirds have specific dietary needs and should be provided with a mix of seeds, pellets, fresh fruits, and vegetables.
Breeding lovebirds involves ensuring they have a suitable nesting area, such as a small nest box or a coconut shell.
Parrots
Parrots require a large, sturdy cage with plenty of toys, perches, and a nesting box.
They have complex dietary needs and should have a balanced diet consisting of pellets, fresh fruits, vegetables, and occasional nuts. Breeding parrots involves creating a suitable nesting environment and providing privacy and a quiet atmosphere.
Conclusion
As you embark on the rewarding journey of bird breeding, it's crucial to remember that we facilitate the continuation of bird species and contribute to their diversification and optimal health. Bird breeding is an art; when combined with scientific learning, it becomes a fulfilling and fascinating journey. By following these steps, you'll have a fun and rewarding time as a bird breeder, making new feathered friends and helping them thrive.
With a lifelong love for animals, I'm on a mission to empower pet parents with knowledge, heartwarming stories, and practical tips to create a world where our beloved friends thrive in happiness and health.